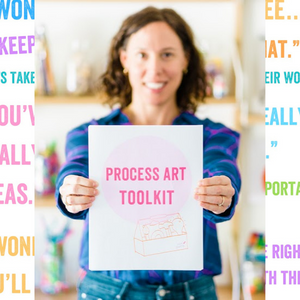 Process Art strengthens critical thinking skills, builds trust in the process, helps connect new ideas, and encourages children and adults to think outside the box.
Whether you're a mom, a teacher, aunt, grandparent or caretaker, you will get so much value out of this toolkit. It has everything you need to get started, or to enhance your journey into Process Art!
THE PROCESS ART TOOLKIT INCLUDES:
Art Secrets Every Teacher Should Know eBook: a Reggio-inspired approach
15 Invitations to Create and how to implement them
7 New Process Art Activities, including step-by-step tutorials
How to Talk to Kids About Art Making Poster: this is Meri Cherry's absolute fave!
5 Favorite Sensory Activities that are great for children of all ages
Set-up and Clean-up Tips for Art Making to make Process Art at home feel way lighter and more fun
Answers to Important FAQs and Additional Art Tips to make your life way easier
The Process Art Video: a previously recorded workshop at Meri Cherry Art Studio
A note from Meri Cherry sharing thoughts about Process Art and why it will bring immediate value to your life